Music in Familiar Spaces
Music in Familiar Spaces is a project I started with my wife Michelle in 2015. We spent 13 months traveling North America, living in a 1959 trailer, bringing classical music concerts to new places and new audiences. It was an amazing adventure! (read about our travels on the MFS blog) The mission of Music in Familiar Spaces is now carried on by a group of some of the finest classical musicians from all across the globe: The Music in Familiar Spaces Artist Collective. Each member of the Collective is committed to presenting innovative and engaging programs to bring new audiences to classical music. They use what we called the "Music in Familiar Spaces Model" to set-up, promote and present concerts in familiar spaces all over the world. You can read about the project and the collective members on the Music in Familiar Spaces website.
Bach & Beer
This is a program I designed and premiered in Amsterdam in collaboration with the brewery De Bekeerde Suster. I have since worked with dozens of breweries in the US, Belgium and the Netherlands, and the concept has gained international acclaim. One of the concerts was named by the Cleveland Plain Dealer as a top ten classical music events of the year.
Bach & Beer concerts take place in the brewery itself and always attract a really fun and diverse crowd. I work with the brewery to pair three of their brews to whichever three Bach Suites I'll be playing in the concert. I interlace the suites with short explanations of my historical, interpretive approach to Bach's music together with comments from the brewer on the historical brewing method of each beer. These short comments give the audience a guided listening experience that give them a fresh ear for the Bach suites and a fresh taste for different brews!
Put My Tears in Thy Bottle - a look at human trafficking
Put My Tears in Thy Bottle - a look at human trafficking
An important part of my mission as a musician is to bring attention to issues facing our society. One such issue that I have focused on is that of contemporary human trafficking.
This particular program - Put My Tears in Thy Bottle - is carefully sculpted with text and music to explore three perspectives on the current human trafficking situation; The Slave, The Industry, and Hope in Suffering. Pre-recorded audio tells this story as the music of Pärt, Gordon and Pincombe serve as a parallel narrative. The program was initially commissioned by and designed for International Justice Mission (NL)'s "Expressions for Justice".
What Wondrous Love
for violin, cello, voice, reader
This project was developed to share the simple beauty and sincerity of early american sacred music with many types of audiences. The program features spirituals and music from the early shape-note tradition in America, and is shaped to follow a believer's journey from repentance to hope in life eternal. The staging and audience seating is modeled after the traditional shape-note 'square' with the four performers facing one another in the center of the audience. This program has been performed in churches and other spaces in the U.S., Belgium and the Netherlands.
The Bach Reader
This project was developed to work with bookstores - a great (quiet) space where people can feel comfortable to experience classical music in a casual setting. The program brings the audience into the world of J.S. Bach not only through his music, but in reading letters and stories of the composer. It features selections from three of Bach's well-known cello suites, interlaces with readings from letters and accounts from Bach's time. The presentation gives listeners a sense of Bach as a person through stories of his family life, work and travels.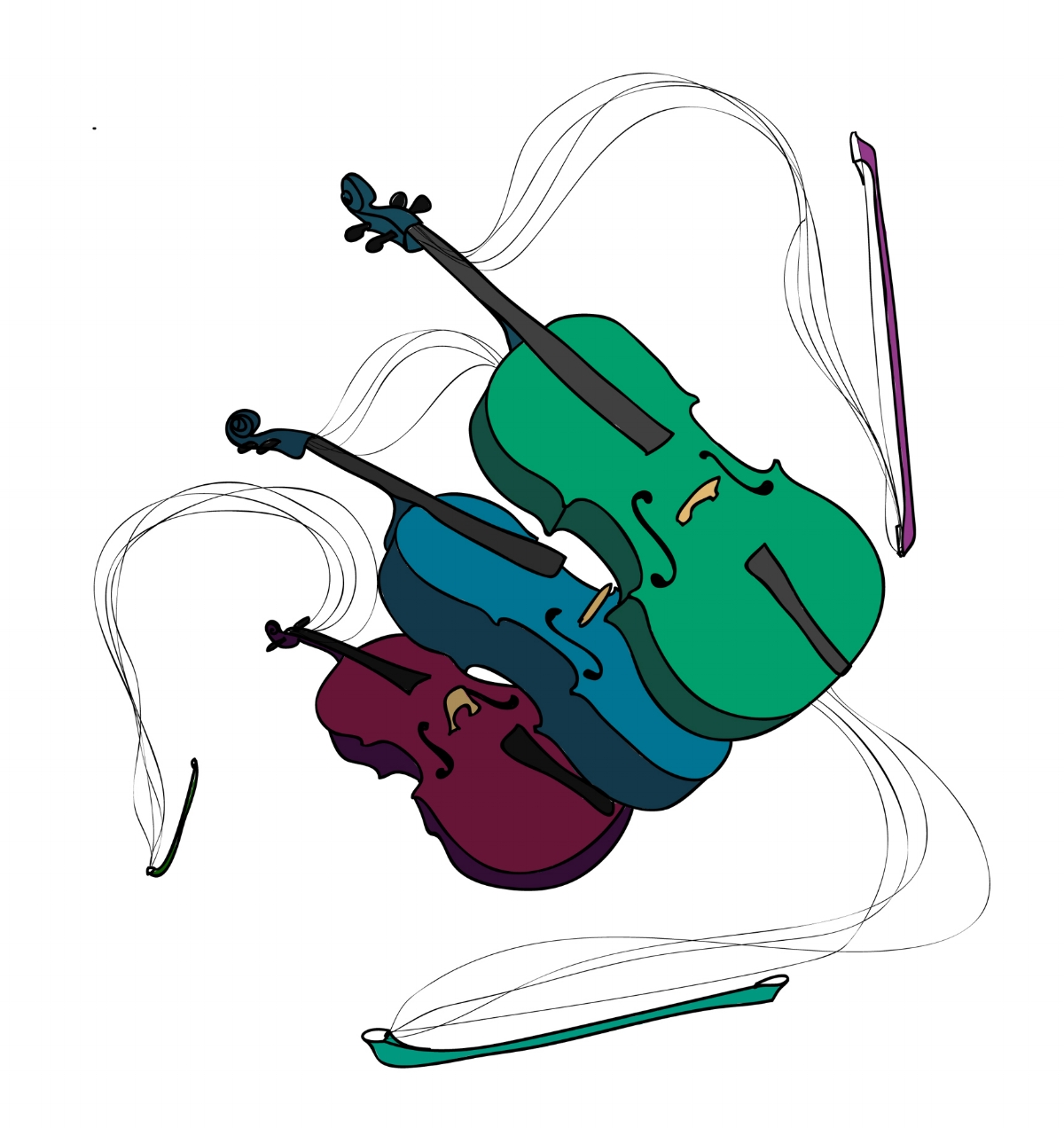 ADAPTATION - through form & function
ADAPTATION - through form & function
This program was first developed to showcase a special instrument that was loaned to me by the Jumpstart Jr Foundation, a cello from 1727 made by Carlo Antonio Testore. The program features virtuosic pieces from the earliest to latest music for solo cello without the endpin (1689-1875). Three different bow styles (baroque, transitional, and "modern") are used to sample works by Gabrielli, Bach, Duport, and Piatti. It's a program that shows audiences how the form of the "tools" function in creating music of different styles. This program is highly interactive, with the audience free to ask questions throughout the concert.
Schubert Swan Song
for violin, cello and piano
Inspired by the 19th century salon concerts, this program is designed to be presented in a comfortable setting and for the audience to get to know the man Franz Schubert through his words and music. Works include Fantasia in C minor, selections from Schwanengesang, and Notturno in E-flat. These pieces, which were written in Schubert's last compositional year, are interlaced with short readings of his letters and other writings.
SILENCE / noise
... an unconventional approach
Designed to help standard and new audiences understand and appreciate music that is not easy listening! The programs includes several virtuosic staples of solo cello repertoire by Berio, Lachenmann, and Xenakis, each interlaced with pre-recorded audio of John Cage, Morton Feldman, and others talking about how to listen. The overlapping of audio clips and music create an engaging, radio-show-like experience that draws in young and old people alike.
Lachrymae
for 5 or 8 strings, 1 piano, 1 organ, and 1 voice (or reader)
Designed for and premiered by the Credo Chamber Music Faculty, this program was designed to draw listeners into the shared qualities of English music between contrasting times. Music of Dowland and Purcell are intricately interlaced with the music of Britten and Vaughan Williams to create an effective portrayal of longing and hope. This contemplative program reaches it's climax with a central moment of silence - the program then continues in retrograde. An ideal setting is a large open space with the audience encircling the performers.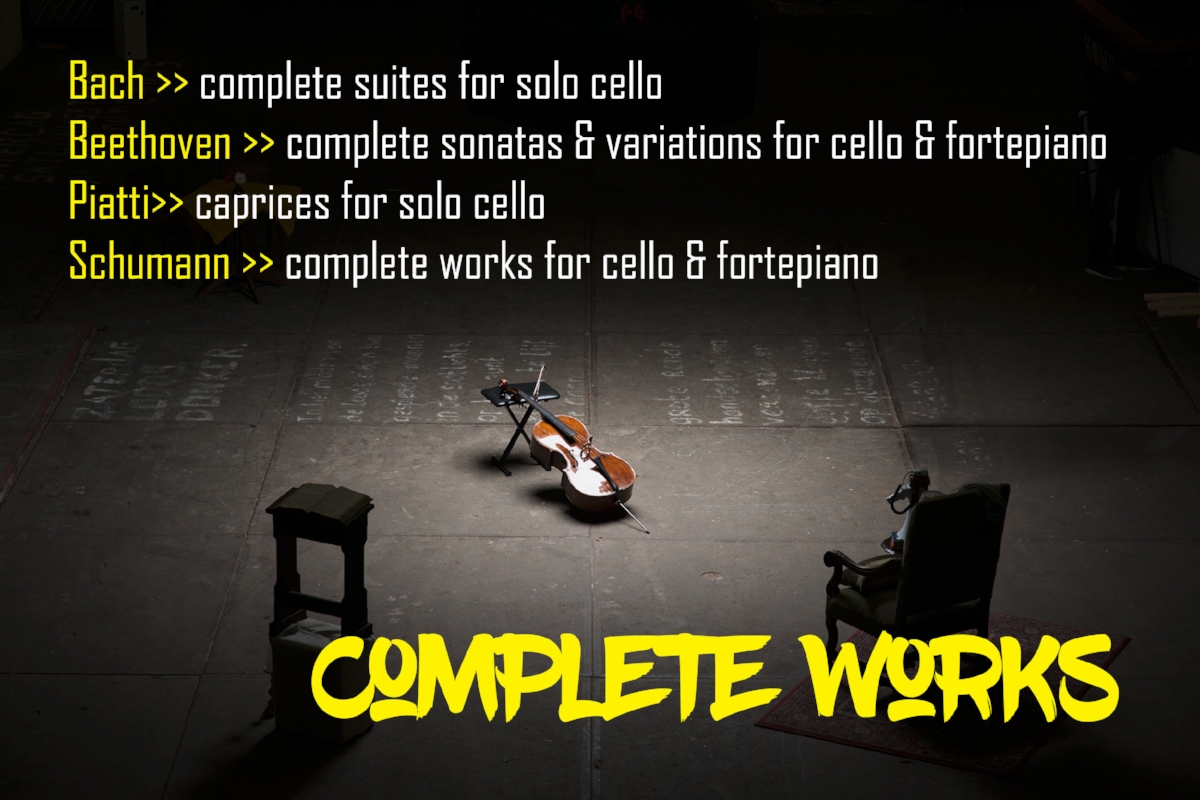 Complete Works
Bach ... complete suites for solo cello (about 2.5 hours)
Beethoven ... complete sonatas & variations for cello & fortepiano (about 3 hours)
Piatti ... caprices for solo cello (about an hour)
Schumann ... complete works for cello & fortepiano (about 1.5 hours)
Though some of these concerts come with the recommendation that audience members bring their pillows, to be immersed in one composers works for a long evening (or afternoon) is an incredibly powerful experience. These are some of the most challenging programs to present as a performer but well worth the experience!